Throughout the years, I have tried different foundations, powders and moisturizers…and I have to admit, so far, I've loved
Laura Mercier
's products. What's great about this line is that it gives you any type of coverage you desire and it's super light on the skin and DOESN'T feel like you're wearing five pounds of foundation.
4 STEPS TO THE FLAWLESS FACE – Laura's Flawless Philosophy:



step 1:

prime the skin

step 2:

apply foundation

step 3:

conceal

step 4:

set with powder
***
Step 1: I actually deviate and use a non-Laura Mercier primer, not because Laura's primers are bad, but because I simply fell in love with this primer from the moment I used it. I wrote about it in one of my previous blogs and I can't say enough good about it…it's light weight and it literally makes your makeup stick to your skin like glue. If you want something that will make your makeup last the whole day, this is the primer to go with! I kid you not, once you try this, you probably won't ever go to another!
– A mineral-based, water-resistant primer with SPF 15 that neutralizes the skin, minimizes shine, and creates a smooth, uniform canvas for flawless makeup application.
– This clean, satin-finish formula helps keep makeup looking fresh and prevents fading. Veil Mineral Primer also absorbs excess oils and minimizes the appearance of pores by evenly distributing light to help hide and soften skin imperfections and fine lines.
***
Step

2:

 

Instead of foundation, I use the Tinted Moisturizer, below are the regular one and the illuminating one, which has shimmer in it and makes you sparkle a bit. These are very light and sheer and are excellent to use under the powder. You can also build them up, by applying 2-3 coats (wait a few minutes in between for each coat to dry a bit) and it will give you more coverage, almost like, if not better than, foundation. 
– The No. 1 selling Tinted Moisturizer* & beauty award winner!
– This sheer, lightweight formula moisturizes the skin softening fine, dry lines, while adding a smooth, healthy glow to your complexion leaving a natural, dewy finish. Providing broad spectrum SPF 20 UVA/UVB sunscreen protection from the harmful, damaging rays of the sun, Tinted Moisturizer features an antioxidant vitamin complex that acts a free radical scavenger to protect the skin from even the most aggressive effects of the environment. Perfect for all skin types, Tinted Moisturizer is extremely long-wearing and remains colour true.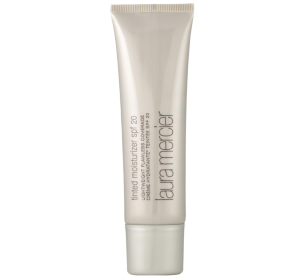 – A lightweight, buildable sheer foundation formula that delivers a youthful, radiant finish, while protecting skin from the damaging rays of the sun with broad spectrum SPF 20 UVA/UVB sunscreen protection.
***
Step 3: Conceal, for me especially, the most important area are the under eyes. I have dark circles, something to thank my genes for, and without a concealer under my eyes, it just doesn't look the same. I have to make sure my eyes look bright and fresh, in order to do that, I currently use the following…
– This concealer really conceals dark circles, and I've tried many different concealers in my time. It's not oily, but it doesn't dry your skin either. It gives moderate to full coverage, but feels very light under the eyes.
– Shadows, wrinkles and redness will never know what hid them. Soft-focus filters diminish fine lines and flaws. And the creamy, fix-it-and-forget-it coverage floats over skin with the greatest of ease. No creasing, no caking, no stuck-in-one-spot. Long-wearing. Heat and sweat resistant. Oil-free. Ophthalmologist tested.
– This loose powder/concealer, sets the undereye area with a light and brightening dust. The description below is right on the spot!
– Instantly achieve a wide-awake look with this innovative eye brightener. Our lightweight formula buffs on gently around the eye area to visibly diminish dark circles while the SPF 20 offers added protection against the sun's harmful rays.
***
Step 4: Last, but not least, is setting with powder. I never used Laura Mercier's loose mineral powder before and let me tell you, I was in for a pleasant surprised. First of all it smells great, it's not strong but very refreshing and yummy, at least to me. Second of all, it applies like pressed powder, you don't see the sandiness of the loose powder, it's almost like moist powder but dry. It is very light when you put it on and doesn't feel like it's clogging pores, and because it's a loose powder you can build it up with layers to give you light coverage to full coverage depending on the makeup you're wearing.
– A finely milled powder composed completely of natural elements with 15 active amino acids to promote radiant skin, diminish the look of fine lines and wrinkles.
***
Step 5: And my own personal touch to the 4-step process, before you apply blush, but after you apply definition such as bronzer….dust your face with this AMAZING little miracle dust, called the…
– A universal translucent finishing powder to be applied over foundation (or worn alone). I personally apply it over my makeup as a finishing/setting powder and it keeps my face matte and oil-free almost who whole day!
– Sets the foundation and slightly mattifies skin without changing its natural contours. This 100% mineral silica powder softens the appearance of imperfections. Completely evens out the complexion for a glowing, radiant look. One universal shade for all skintones. It's completely translucent and goes on any skintone. Its dermatologist-tested and talc-free formula does not dry the skin and is formulated with 100% silica.
In other words, it's plain MIRACLE DUST, especially if you have oily skin or an oily T zone!

Related articles